Winning the Mind Game – Part 2: Jade Donnelly
Mark D. Leahy BSc (Hons) Psych, PgDip, MSc (Distinc) Clin Hyp, MBPsS, DBSCH
In Part 1 of this two-part article, I discussed how women's doubles team, Denise Brazier and Rachel Deakin (clients of mine) used hypnosis to help them achieve World No.3 ranking and Great Britain No.1 ranking in Hyrox, "The Fittest Sport in the World".
In this second part, I look at how another of my clients, Jade Donnelly, (pictured on the right, with her doubles partner, Sarah), recently smashed her previous PB (Personal Best) to achieve an immensely challenging goal she had set herself. Jade uses sport psychology and, in particular, hypnosis to engage her subconscious, take control of her thoughts and mental approach, and effectively boost her performance. This is what she says:
"I was recommended to Mark by my trainer who had been to see him previously. We knew that I had trained as much as I could for this event and as I was quite in touch with my 'mind over matter' motto I felt I had nothing to lose and everything to gain in having a session with Mark. Not knowing what to expect I was surprised at how quickly I relaxed and went in to a hypnotic state of mind. When I was 're-awakened' I felt excited and more ready than ever for my event! I used the techniques which Mark discussed with me and had embedded into my subconscious throughout my session, during my event which really helped me to keep my focus."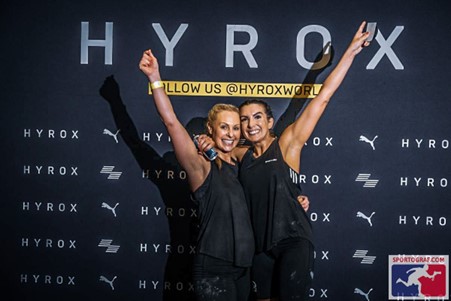 Performance excellence does not just happen. Obstacles are what you see when you take your eyes off the goal – but how do you keep your eyes on the goal to the extent of achieving performance excellence, as Jade did? It's a combination and a culmination of ability; training; dedication and, perhaps above all else, belief. The ancient Roman poet, Virgil, summed this up neatly: "Possunt quia posse videntur" ("They can, because they think they can").
Even though we may possess great ability, train hard and be one hundred per cent dedicated to achieving our goal, our belief – or lack thereof – can sometimes sabotage us! Hence, the possunt quia posse videntur mindset and the increasing use of hypnosis in sport psychology.
Jade Donnelly is at the top of her game; how does she do it and how did she not just improve, but smash her PB during her most recent competition in Manchester? Of course, there is the physical training and commitment. But Jade attaches as much importance to training her mind. Jade uses mental strength and psychological flexibility as well as physical strength. She treats her mind like a muscle and trains it, similar to how she trains her body, but instead using hypnosis to engage her subconscious. Hypnosis enables Jade to, not simply visualise success ahead of an event, but to experience success, as if it's actually happening. By doing this, once the event starts and she is competing, her goal is much more likely to be attained because she has already experienced that success. The difference between visualising success and experiencing success is subtle but important. As a result, Jade is able to perform optimally and enter the "flow state"; by using hypnosis, she is able to achieve peak athletic performance at will, over and above what her body would normally deliver.
To learn more about how hypnosis can enhance your performance in sport, business or The Performing Arts, contact me for an informal chat.
Mark D. Leahy BSc (Hons) Psych, PgDip, MSc (Distinc) Clin Hyp, MBPsS, DBSCH
Registered Clinical Hypnotherapist and Performance Specialist.
24th May 2022