What is Bedford Consulting Rooms?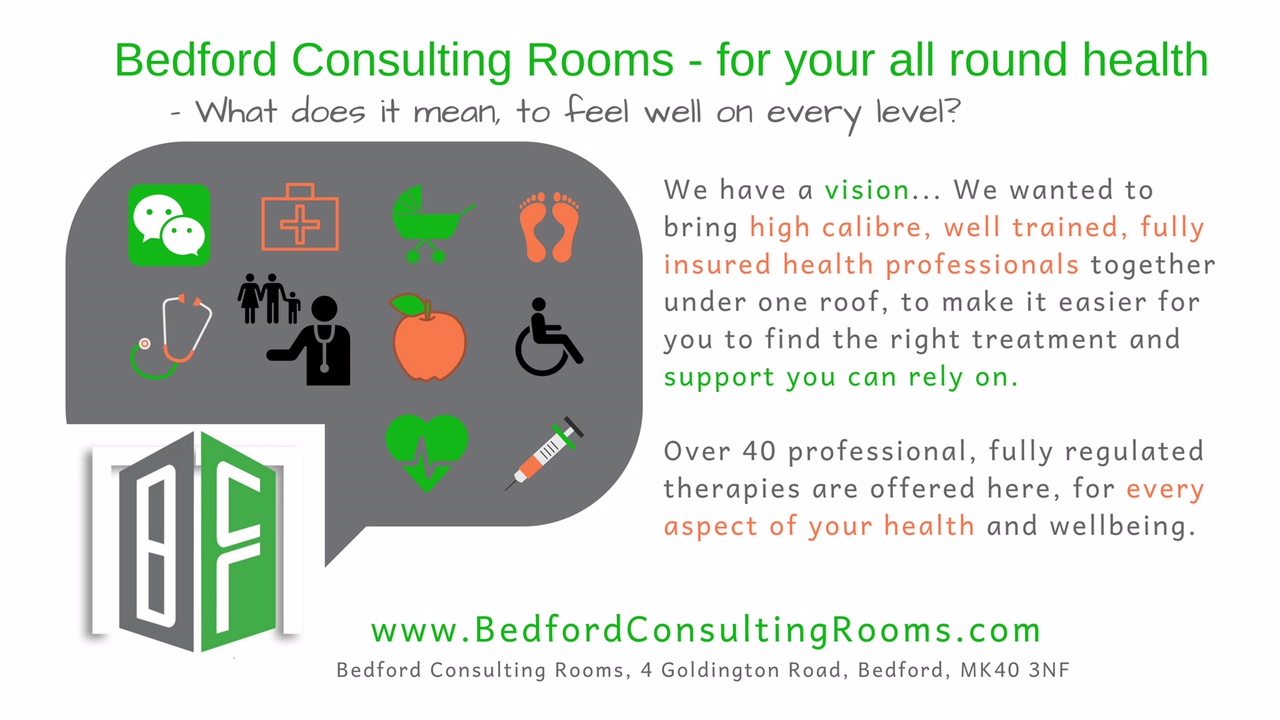 Welcome to the first our Bedford Consulting Rooms: BCR Blogs. These pages will feature contributions from our practitioners, and information about treatment modalities offered here at 4 Goldington Road.
Here you'll be able to read about the treatments practised by our different practitioners, and find out what they can offer in respect of your specific needs.
In the meantime, you may be wondering who we are and what we are doing, and what our approach is? What got us started and how did we end up with a multi-disciplinary team at Goldington Road, and what are our plans from here?
Where it all started: a small acupuncture clinic
I started practising acupuncture in 2008, after three years' training and having attained a first class honours degree in the discipline, accredited by Oxford Brookes. Working on my own, despite very little advertising I quickly became busy, and when I had my first child in 2009 I asked one of my colleagues – who I had trained with – to join me and cover my maternity leave. As we became even busier, yet another colleague joined us. I returned to work with us all working, and things carried on growing.
From about the second year in practise, I started getting room rental queries from practitioners other than of acupuncture as by now practitioners and patients recognised Shaftesbury Clinic. This set me on a path to collaboration which is continuing to grow, and is very positive and beneficial for patients. We now collaborate with other highly trained specialists under one roof. Bedford Consulting Rooms: BCR now provides high-specification, comfortable and welcoming treatment rooms right near Bedford town centre.
Vision
We have a vision… To bring high calibre, well trained, fully insured health professionals together under one roof, to make it easier for patients to find the right treatment and support they can rely on.
We are keen to ensure we are looking at patients' health from every angle, because "health" can mean different things to us all: from being pain-free, to having mobility, to feeling able to cope mentally and many other things besides.
Professional partners
Our ethos is to enable the provision of high quality, professional treatments from professional, regulated and fully insured practitioners.
We are proud to now have dozens of practitioners in many fields under one roof, who can address the many aspects of what it is to feel well on every level.
These include: Acupuncture, Aesthetics (anti-wrinkle/dermal fillers/facial peels), Audiology, Cognitive Behavioural Therapy (CBT), Clinical Hypnotherapy, Cognitive Hypnotherapy, Clinical Neuropsychology, Counselling, Clinical Aromatherapy, Coaching, Career Coaching, Dietetics, Eye Movement Desensitisation Reprogramming (EMDR), Hypnotherapy, Laser IPL Hair Removal, Medical Thermal Imaging, Mindfulness, Naturopathy, Nutritional Therapy, Pilates, Private Health Screening, Psychology, Physiotherapy, Pelvic Floor and Continence Physiotherapy, Reflexology, Speech and Language Therapy, Sports Medicine, Medical Thermal Imaging, Western Herbal Medicine, Yoga, and we have more professionals joining us all the time.
All the practitioners who work with us are highly qualified, fully insured members of professional associations and are committed to ongoing training and development. We support development and public education in health and how we can help you to understand and look after your health, both in addressing current needs and also in the very important area of preventative care and ongoing self-care.
Collaborative care
We work collaboratively with GP's and consultants; our practitioners see their work as complementing your usual care.
Safety and ethics are paramount to us, and we would always advise you to speak to your medical professional when there are concerns that are out of our remit, and will happily liaise in this if you wish us to (and grant us permission to).
We aim to provide the best of care in a welcoming and collaborative environment. We are looking to provide health education opportunities for our own practitioners and also the public, to open up what we do and how we work, and so that you can find out what we are about and whether we have a place in your care, or that of a friend or family member.
Bedford Consulting Rooms: Looking at health from every angle.