In Conversation With… An interview with Susan Howard, Podiatrist
As part of our series of blogs, meeting the people who work at Bedford Consulting Rooms; BCR's Helen caught up with Podiatrist, Susan Howard, to find out more about her journey into becoming a podiatrist, what she does in her everyday practise, and what inspires her in her work.
Fact File – Susan Howard:
• Has a BSc (Hons) in Podiatry from the University of Northampton (2010)
• Is an experienced Podiatrist who has run her own practise for over 11 years
• Previously worked as a podiatrist in nursing and care homes for patients with dementia and learning difficulties
• Has interests in podiatry for elderly people; the diabetic foot; and Complex Regional Pain Syndrome
Helen: What led you into training to be a podiatrist?
Susan: It wasn't a direct path, as when I left school, I went to work in libraries for three years, and from there into administrative roles including Cranfield University, RAF Cardington, and the Civil Service. I enjoyed admin work, and it stood me in good stead for running my own business.
I spent 9 years at the DWP (Department for Work and Pensions), working at a Job Centre, and through my life experience I had come to realise this wasn't what I wanted to do forever. I was fascinated by hospitals and the work done by staff in all departments (which I realise isn't for everyone!) and I wanted to work for myself and be in a caring profession.
Back when I'd worked at Cranfield University, I remember seeing the postgrads at their graduation ceremonies and feeling quite envious. The notion of wanting to do something different, and to study at degree level was compounded by some negative experiences at the Jobcentre with a claimant who was physically violent toward me, and I realised that I could not continue with that path. It became my dream, and was in my prayers, that I should find a way to do a degree and work in healthcare.
My father was committed to lifelong learning and completed an Open University degree when he was over 70 years old. I had decided to change career and within a few days of making that decision my father sadly died very unexpectedly. This reminded me that life is short and fragile. I had previously completed one OU course so went back and did four more!
Helen: What attracted you about Podiatry as a career?
Susan: I was doing a Life Coaching course through the OU, and discussing this with the tutor, who asked me "what do you need to do, to get to retrain in healthcare?" and sent me off to do some research. I looked at a whole range of possibilities for allied healthcare, from physiotherapy, chiropractic, osteopathy and acupuncture, to optometry, Occupational Therapy and Reflexology. None of them clicked with me, didn't light my fire, and I got to the stage of being not sure what to do.
A few weeks later, a chance meeting got me on to Podiatry. At a party a lady recognised me from being at school with me, I asked about what she did, and she was a podiatrist. I didn't know what this was until she explained it was the new word for a chiropodist – many people were unfamiliar with the word, and some still are! Whilst I was unsure about the whole idea, she was so enthusiastic in telling me it was the best job in the world, that I was compelled to find out more, and so I did some research.
I got an unconditional offer to study at University of Northampton, and of course in those days it was a letter. It was pouring with rain, and I was so excited I ran straight outside to tell my family, dropping the letter in a puddle! I still have the letter, crispy and watermarked!
I learned so much in the 3 years of my training. I don't regret any of the steps on the path there, as I feel the life experience, is part and parcel of what I can bring to my work. You can go straight into the training at 18-19 years, but in many respects, you don't have that life experience. For me, it happened at the right time of my life.
Having said that, it wasn't easy, but after the first two years, when I was on campus doing my dissertation, I saw the year threes graduating, and that dream I had been following stayed with me and inspired me to work hard. Sadly, I experienced another close bereavement on the eve of my finals and Viva. It was tough, but I persevered.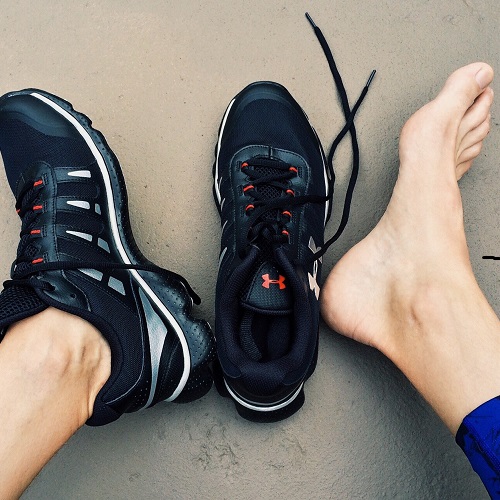 Helen: Did you go straight into private practise after graduating?
Susan: Despite there being a shortage of podiatrists now, this wasn't the case when I qualified: There were no NHS jobs, and there had been rounds of redundancies. I secured jobs at private clinics in Olney, Shefford, and then at a care home in Bury St Edmonds, working with dementia patients. I also started my own home visiting practice alongside working at a clinic in Huntingdon.
Helen: What is a typical day like in your clinic?
Susan: In a typical day I would see a couple of patients with diabetes; preventative foot care is essential for diabetics, as nerve damage from the diabetes can reduce blood flow and feeling in the feet; so small injuries may not be noticed by the patient, and can take longer to heal, causing ongoing problems.
I would usually also see a couple of toenail issues in clinic, not necessarily in-growing, but perhaps with other issues due to how a patient has been cutting them, or thick nails caused by fungal infections. Corns are another thing that I will see a lot of, and these can be very painful.
There are also verrucae, and there are some areas of controversy in terms of how, (and even whether) to treat them. After taking the history and assessing the patient, how these are treated will depend on factors including the age, capacity, health status and activity levels of the patient. For example, you cannot use the stronger acids on a diabetic foot, which will not heal as well. There is no one-size-fits-all, so I take a holistic approach.
Another thing that I do have to do, is educate people on their footwear, as the wrong shoes can cause a great deal of problems. This isn't always popular, but it is important to foot health.
Helen: Do you have any special interests?
Susan: Podiatry in the elderly patient is of particular interest to me, as foot health is a big part of keeping people comfortable in their later years. Issues around dementia and how to communicate differently based on their understanding requires patience, when they may ask me something and have forgotten we have already discussed it.
Complex Regional Pain Syndrome (CRPS) is also a particular interest, as this something in my direct experience. It can be quite a journey for the patient to get to this diagnosis as it is quite unusual, but it is something I am alert to in clinic if I see any signs of it. CRPS is a little understood condition and can be misdiagnosed. It's a complicated condition, very distressing for the patient and often requires input from various health professionals. I encourage people to gain knowledge to empower themselves.
Helen: What are your interests outside of podiatry?
Susan: Animals, and in particular dogs; I enjoy writing and volunteer for the national charity Hearing Dogs for Deaf People. I also love listening to music and reading -both academic research and reading for pleasure.
Helen: Finally, tell us a bit about working here?
Susan: What I like about working here is that it's straightforward, and it's been made simple. There is easy access from town, good parking facilities and being next to a GP surgery is also good. There is an interesting mix of health care professionals working here and I enjoy finding out about their different specialisms.
Helen: Thank you for taking the time to talk to me today!
You can contact Susan Howard for an appointment via the contact for on her page
• A podiatrist is an allied health professional, trained to assess, diagnose, and treat disorders of the lower limb, foot, and ankle
• Podiatrists work either in the NHS or as independent private practitioners and are registered with the Health and Care Professions Council
• Podiatrists either study an approved degree course which takes three years full-time, or 4+ years part time, there are also degree apprenticeship options to train