Winning the Mind Game – Part 1: Denise Brazier & Rachel Deakin
Mark D. Leahy BSc (Hons) Psych, PgDip, MSc (Distinc) Clin Hyp, MBPsS, DBSCH
Registered Clinical Hypnotherapist and Performance Specialist
Have you ever wondered what makes winners different? Have you ever marvelled at how some people achieve performance excellence and just seem to have that extra something that makes them win? In this two-part article I look at how hypnosis has enhanced the performance of three clients of mine, all athletes competing in what is widely acknowledged as the "Fittest Sport in the World" and all with a single focus: to be the very best they can and perform to the highest standard. The principles which they adopt, apply in sport, business and The Performing Arts.
In Part 1 we focus on women's doubles team, Denise Brazier and Rachel Deakin (pictured) who competed at The World Championships of Fitness (Hyrox World Championships) in Las Vegas on 14th May 2022 and not only achieved a new PB (personal best), but achieved a podium position, placing them No.3 in the World and No.1 in Great Britain.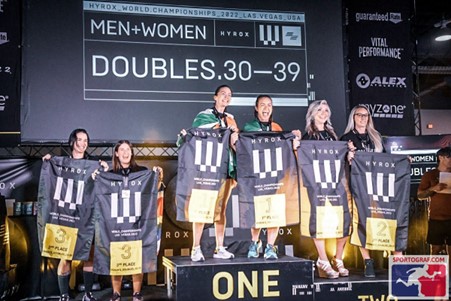 Hyrox claims the title of "Fittest Sport in the World". Certainly, it is extremely tough with endurance being a key component; it is widely held that you have to be the complete athlete to compete in Hyrox, a sport which focuses on the athlete's whole body rather than one specific asset they might possess. At a single event, a participant utilizes their functional training, high-intensity interval training, and classic endurance. Hyrox is not for the faint-hearted and commences with a 1km run. There are then eight gruelling strength and endurance challenges, including a sled-push; a sled-pull; rowing; kettle-bell carries and sand-bag lunges to name just a few! And these are all performed in between a total of 8 x 1,000m runs. All are back-to-back. All are against the clock. With no stopping and no let-up!
Rachel and Denise, decided to engage their subconscious minds to boost their performance – physically and mentally! As a team they had already enjoyed success by reaching the World Championships; they knew what success tasted like – and they hungered for more. Swedish researchers have produced evidence to suggest that success breeds success. Experiencing success means that, statistically, you are more likely to succeed again. But success is not only based on ability; research shows that the confidence gained from winning makes success easier to achieve again.
Factors like confidence vary from person to person, but what if you could improve your confidence and, by doing so, improve your chances of performing optimally … what if you could achieve peak performance, both physically and mentally, simultaneously?
Denise and Rachel had several objectives when deciding to use hypnosis, including: managing physical discomfort/pain during extreme athletic performance; managing their pace by not "going too early" and being able to "switch on the armour" (as Rachel phrased it) and improve resilience when things became tough.
It should go without saying that their physical preparedness was already excellent. Both Rachel and Denise were in better shape than they'd ever been; exceptionally fit and healthy. They had done all they could do to ensure they were in top condition and physically ready. Mentally, they were also focused and firing on all cylinders – but they felt there was more they could do psychologically. What if they could somehow squeeze out another one or two percent by changing their mental approach? That could be a differentiator when competing – even a game changer!
I explained an "anchoring" technique which we then agreed to use in hypnosis. Having entered a hypnotic state, where the brain is more suggestible, Denise and Rachel were guided to recall a past success. A success which gave them a feeling of supreme confidence and being fully in control at the time (it was not necessarily important what the success was, as long as it provided feelings of supreme confidence and being fully in control). They were then encouraged to "experience" again those very same feelings of success, confidence and control which they had experienced during the original event. They were guided to, not simply recall the feelings, or even just visualise the event that provided the feelings; they were encouraged to engage all their senses to "re-live" the feelings. They re-connected with them. They experienced them again.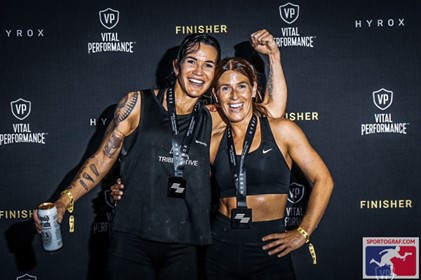 Whilst still in a hypnotic state, they were then encouraged to enhance the original experiences, again using as many of the five senses as they could: seeing the images replayed in motion, in bolder colours, enlarged and with sharper outlines; zooming in; hearing the sounds, perhaps cheers, that they heard at the time and even tasting the sweat that may have run into their mouths! This enabled them to truly and vividly experience again those feelings of success, confidence and control. When the re-experience was at its climax, an "anchor" or cue was set. This procedure was repeated several times until the "anchor" or cue was firmly associated with the very same feelings of success, confidence and being fully in control. Using the "anchor" or cue in the future would automatically "trigger" or recall the same feelings of supreme confidence and being fully in control. The "anchor" could then be activated at will, making it easier to reproduce and enhance the high level of performance which produced the desired feelings in the first place.
The anchoring technique used in hypnosis provided the hunger, confidence and the mental strength to achieve even greater things. As a result of their success at The World Championships of Fitness in Las Vegas on 14th May 2022, Rachel and Denise are now ranked No.1 in Great Britain and No.3 in The World. Not bad for two ladies who were, on paper, underdogs and who train in the basement of a local church (most other teams were sponsored by global brands or gyms).
This is what Denise says:
"Rachel and I contacted Mark a few weeks before our big race in order to achieve an edge over our competitors. We had a 5-star, fool-proof training plan in place and were in the best shape physically of our lives. However, I have seen first-hand the effects of race day pressure take down the biggest, baddest athletes and no training plan is good enough to combat what the psychological impact of racing can have on you.
Hyrox is a sprint that lasts an hour.
It's like no other race. A real leveller in the fact there's no one body type that is at an advantage. If you're big and strong the sled and carries are easy, but running at speed is going to be hard. If you're tall and lean and a good runner, the burpees and lunges are going to get you! It really is the 'championship of the fittest'. And 'fittest' is by no means purely a physical state.
I wanted to tap into my subconscious, to be able to override the voice in my head and to remain calm and in complete control in the days leading up to the race as well as race day.
The moment you go too hard on the wrong bit, you'll be chasing the pack from then on. You need to let everyone burn themselves out. Learn to not 'race' them, but to pace, run your own race. Steady is fast.
When you run a marathon or a half marathon or a 10k, you have a pace, you stick to it. Hyrox makes this almost impossible to do.
Rachel and I both got different things out of the hypnotherapy sessions with Mark: for me the thing that stands out more than anything was the level of focus it gave me. I'm a worrier by nature and an over thinker. The day before the race I told Mark I was getting anxious about things I hadn't considered; I didn't take into account how much of an impact being in Las Vegas would have on me: the air – lots of air-con which dried my throat and mouth to an uncomfortable level; the heat during the day sapping my energy levels; the jet-lag and lack of sleep; the food; the flight and the swelling of my hands and feet!!
We had a hypnotherapy 'top up' session with Mark the day before the race and he got me (us) to just focus.
The moment the gun went off I was so unbelievably focused, more than I have ever been in my life, that nothing mattered. Not the air, not the temperature, not how hot or hard it was, I was mechanical.
I was able to pace my runs to within seconds of each other. I just knew exactly how hard and fast to push and when to pull back. I didn't focus on any other person there.
It was the absolute best we have ever performed. We took over 6 minutes off our previous time. There were 32 seconds between 1st, 2nd and 3rd place. We came third in the world in our age category as well as overall. We were the only Britons to come top 3 overall.
The one significant difference between that race and the others, was my mind which is usually full of noise and stress. It was as if a switch had turned on and I just knew how to get the job done."
Denise and Rachel's ability to use hypnosis, engage their subconscious and enlist it in working towards their global success, bears out what the ancient Roman poet, Virgil, maintained: "Possunt quia posse videntur" ("They can, because they think they can").
To learn more about how hypnosis can enhance your performance in sport, business or The Performing Arts, contact me for an informal chat.
Mark D. Leahy BSc (Hons) Psych, PgDip, MSc (Distinc) Clin Hyp, MBPsS, DBSCH
Registered Clinical Hypnotherapist and Performance Specialist.